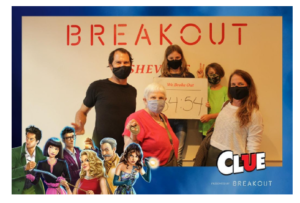 Yesterday I broke out of the Clue Escape Room thanks to the ingenuity of two grandchildren and their parents. After our Game Master explained the setting and rules, and gave us a clue, he shut us into the room and gave us an hour to figure out Who was planning the crime, Where it would take place, and with What. Each one of us figured out a different piece of the many puzzles that it took to prevent a catastrophe. Turns out I had the missing piece because I remembered at the last minute the original clue given by the Game Master just before he left us in the room — that everything we hear is true. That made it easy to tell the police that it was ___ in the ___ with the ___. We broke out of the Escape Room in 54 minutes and 54 seconds — just in time! We collaborated quickly, prevented a murder, and had great fun doing it.
Why couldn't we play the World Game that way? In 2004 I played Buckminster Fuller's World Game on a gymnasium-sized Dymaxion world map with more than 100 people. The Game Master that day set us up in much the same way. He gave us the historical background going back billions of years, gave us cards representing present-day nations and roles and resources, then challenged us to "Make the world work, for 100% of humanity, in the shortest possible time, through spontaneous cooperation, without ecological offense or the disadvantage of anyone."
Amazingly, we were able to negotiate agreements that actually made our imaginary world work for all — within a couple of hours. That game had a profound effect on me.
So here we are, all these years later, and I'm still playing the World Game in a new way, with a new generation, with new digital tools in an interconnected and very confused and confusing world. An intergenerational team of young and older people meets weekly to tell the next chapter in a collaborative storytelling adventure. We're writing it out as the draft script for an Earth Day 2022 production called "Climate Collaboratory: The Musical!" You can see the first reading of Act 1 from the August Welcome to WE! Show.
We're exploring possibilities for playing the EarthFlash! Climate Challenge. By Earth Day in April 2022, people of all ages will be playing games, singing songs, making action plans and supporting each other in activities to "Make the world work for 100% of humanity and the community of life on Earth, our home." We're telling the story of how the human family is saving the community of life on Earth — just in the nick of time.
The Climate Collaboratory is a pilot project of We, the World and the University of Florida Extension. Read all about it in the Earth Flash! Printernet Gazette!