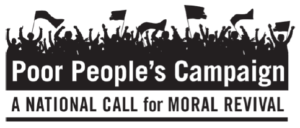 As Coordinator for the Economic Justice Campaign for WE The World, I have been fortunate to connect with the Poor People's Campaign and Repairers of the Breach, led by the Reverend Dr. William Barber II, and the Reverend Dr. Liz Theoharris. My affiliation began with a simple reply to their outreach to members of poor counties in Ohio and has grown from there!
In addition to my work with WE The World, I have risen to the level of membership at the State and National Coordinators rank and to the National Field Team. I value my duty as a concerned citizen of my country to do this work so that I can feel that I am a part of the solution and not the problem. To have the ability to combine their efforts with those of WE The World adds to the Social Action Movement of both organizations. As Rev. Dr. Barber states, this is more than social action, it is a Moral Fusion…to demand that we all must do what is morally right and has nothing to do with politics. The People are hurting and we must all help.
Just as women came together to march for their rights to vote and MLK and John Lewis marched for the rights of the suppressed, the Poor People's Campaign has realized that the time of polite speech does not work or get attention. Therefore, there was a decision made at a National Call to change tactics toward non-violent direct action. Instead of Moral Monday Mass Call-ins to certain political figures, the focus shifted to COVID Safety precautions to gather in person in places of nondemocracy crisis locations…such as West Virginia, Texas, and Washington, D.C., in addition to state government offices.
While difficult to understand, these peaceful protests involving testimonials from impacted individuals, faith leaders, and influencers always led to arrest. If one could not participate in direct action, there was digital engagement. Of course, there were many planning meetings to coordinate security, safety, press releases, and bail money. Public arrests were made including those of Barber and Theoharris and even Jesse Jackson. And still, they did it again – they came back to state their cases…ending in a four-day march from Georgetown, Texas, to Austin with the noteworthy addition of Beto O'Rourke and Willy Nelson.
Despite all these attempts to bring about the much-desired response of saving the American Experiment of Democracy, the Four Principles that were being fought for were not accomplished thanks to the pervasive undercurrent of autocratic leanings of those seeking to disrupt:
End the filibuster
Fully restore and expand protections of the 1965 Voting Rights Act
Passage of all provisions of the bill John Lewis wrote: the For the People Act
An immediate increase in the federal minimum wage to $15/hour
The Reverend Dr. William Barber states: "The ones pushing voter suppression at the state level and the ones blocking it at the federal level are the same political forces that block living wages, and fixing the climate and healthcare. And all of these things have a devastating impact on the totality of America."
As we say at the end of every meeting, "Forward Together…Not One Step Back!" To be sure, these forward steps seem to be too little as we continue to come up against barriers. However, such is the history of social change movement. And, it's always best to move forward and together and with passionate moral fusion.