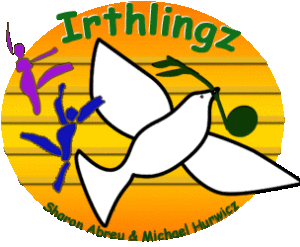 Irthlingz mission is to engage, inspire and empower people to become active stewards of the Earth. We want to have fun in this pursuit, so we want to create materials, programs and events that are fun for others! To that end, we:
Sing, dance, play, hoot, holler, and wake people up to their natural environment, so pleasantly that they don't mind having been awakened!
Use multimedia entertainment and technology that's educational and fun to ignite love for our environment and inspire proactive care of our world with a collective consciousness.
Protect animals, plants, oceans, rivers, estuaries, harbors, lakes, drinking water, forests, wildlife, soil, air, and human beings from human threats to the environment.
Connect the dots between our natural environment and our health, drinking water, food, economy, jobs, and great opportunities now and in the future.
Promote and support environmentally, socially and economically sustainable lifestyles, communities, and development.
Following is a history of Irthlingz:
Irthlingz Arts-Based Environmental Education was founded in 2002 by Sharon Abreu and Michael Hurwicz, after the team moved from New York City to Orcas Island in Washington State. In New York in the late 1990s, they had satisfied New York State academic standards for science to bring their first original musical environmental musical show, Turn the World Upside Down, into the New York City Public Schools, through the Brooklyn Arts Council. Also in New York, they had the privilege of performing in concert on several occasions with legendary folk singer and social movement leader Pete Seeger.
Sharon and Michael have performed for and/or worked with students from 1st grade through high school. They also make it a priority to engage adults, who they believe don't get enough positive engagement.
In 2007, their climate change musical revue Penguins on Thin Ice was performed by high school students at the United Nations for the U.N. Commission on Sustainable Development, receiving a standing ovation from a full auditorium of international delegates.
In March 2011, Sharon received the "Spirit of Nature, Ecology & Society" Environmental Justice Award from the Professional Staff Congress Union at City University of New York for her presentation of her climate change show The Climate Monologues. Sharon has performed The Climate Monologues for church groups, climate action groups and conferences. In 2016, she brought the show to sold-out houses at the Los Angeles Women's Theatre Festival and the United Solo Theatre Festival in New York City.
In 2015, Irthlingz partnered with another local nonprofit, Kwiaht, for the "Youth Eco Arts Action" program ("YEAA!"), working with 5th graders at the Orcas Island Elementary School to prepare and perform an original musical-theatrical presentation for the community about the problem of stormwater runoff in our local community. The students performed their show to an enthusiastic and supportive crowd on March 15, 2015.
In early 2016, Michael Hurwicz's book, The Meltese Dodo, a fun and entertaining short history of climate change science loosely based on The Maltese Falcon, was published. Michael is now preparing a radio play version of The Meltese Dodo.
Irthlingz is featured in University of Minnesota professor Mark Pedelty's books, Ecomusicology (2012) and A Song to Save the Salish Sea: Environmentalist Musicians in the Pacific Northwest (2016).
Websites:
http://www.ClimateMonologues.com