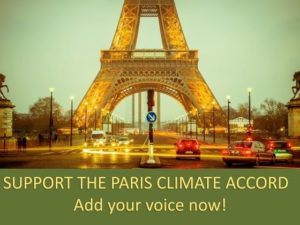 The United States was a leader in crafting the historic Paris Climate Agreement – now the Trump administration is reviewing whether or not to back out of it.
It's up to us to urge U.S. leaders to maintain our momentum in this vital climate accord.
The Paris Agreement unites all nations around a common cause for our planet – to reduce the pollution changing the earth's climate and causing dangerous global warming that affects human health and our environment. But U.S. participation in the agreement is under threat today.
No nation can afford to slow its efforts in the fight against global warming, already impacting the United States and countries around the globe. This isn't just about the environment – this is about health, jobs, national security, the economy, and so much more.
The United States can't afford for other countries to take the lead on the new climate economy, and the world cannot afford for the United States to abandon its role as a global leader in meeting this challenge.
The administration is currently reconsidering its role in the climate agreement, so there's no time to lose. We're gathering and delivering these names to top White House officials, and we need you to join us!
The global challenge of climate change requires bold collective action, and the Paris Agreement is the greatest opportunity that the United States has to join the nations of the world to protect the planet we all call home. Add your voice today for a brighter, safer, healthier, and more prosperous tomorrow.