WE – A global  campaign of We, The World to unite
and amplify the efforts of people, organizations
and movements working for the common good
WE.net
And we appreciate if you can add
outreach@we.net
to your Address Book or Trusted Sender list.
Thank You!
———————————————————————————-
We, The World Global Action Newsletter December 2021
The Power To Create Change in Our World
———————————————————————————-
Dear Friend,
Every one of us right now possesses the power to affect real, measurable, positive change around the world — one body, one mind at a time. Sometimes that change begins within; sometimes that change comes when you help open doors for others. Whatever step in your journey you are on We, The World is with you — empowering you with the keys you need to unlock those doors to create a world that works for all.
December is another month rich with opportunities where you and We, The World can work together to create the change we seek and make the world a better place. Here's how:
---
With Aurura Pagonis and Janet Grace Nelson
Tuesday December 7 at 7 pm USA Eastern Time
RSVP: SacredConversations@WeTheWorld.org
How you complete a project is just as important as how you begin one. In this month's Sacred Conversation (December 7 @ 7 pm ET). We, The World will explore the power of the Divine Blessing of Conscious Completion and demonstrate how this sacred practice can empower you to not only begin but perform the equally critical act of completing a personal or professional pursuit. As we draw the year to a close and prepare the way for new beginnings, each of you will be invited into a contemplation of what moving to completion means.
---
Town Hall For Human Rights Day 2021
PLEASE NOTE: THIS EVENT HAS BEEN POSTPONED!
In the next newsletter we will inform you of the new date for the Town Hall event.
To Subscribe to our Global Action Newsletter Click Here: https://we.net/take-action
The Welcome To WE Show
Tuesday December 14 at 6 pm USA Eastern Time
Host: Rick Ulfik
Founder of We, The World and 11 Days of Global Unity
On this show we answer the question: What can WE do together that we can't do on our own? Our guests are visionary leaders and activists committed to creating a world that works for all. On the show, and in our work, we seek to Inspire, Inform and Involve – 3 "I"s that make a "WE"!
---
In Global Grassroots Organizing
Magazine
At this moment of political discord and social turmoil in the USA and many other countries, when millions of people are frightened about their future and wondering where our society is headed, we think it is crucial to know: Who is doing What for People and the Planet, and How YOU can get involved! To download the latest issue, see past issues and 
submit your own Trend Report
 go to 
Trends.We.net
---
Women & Allies Unite!
Monthly Networking Meeting
Thursday December 16 at 6 pm USA Eastern Time
Register for Zoom link here:
Host: Karen Palmer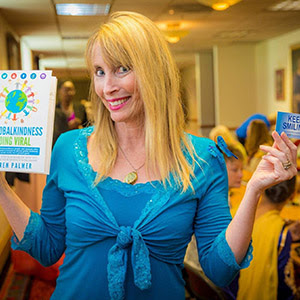 Coordinator of We, The World 's Campaign For Women
Join us live on December 16 @ 6 pm ET via Zoom as we gather women and allies to share their stories about the incredible work they are doing and how we can collaborate to create an even-more powerful action plan to build a world that works toward and celebrates the wellbeing of all.
Do you have a Success Story you want to share? 
Email karensyv@yahoo.com
 to secure a five-minute Sharing Window to promote the work you are doing and hear from other women and allies how we can work together to accomplish twice as much as we can on our own.
Please Register in advance at:
After registering, you will receive a confirmation email containing the Zoom link and how to join the webinar.
Thank You!
Jeremy Kehoe, Angel Fullerton, Rick Ulfik and The WE Team at WE.net