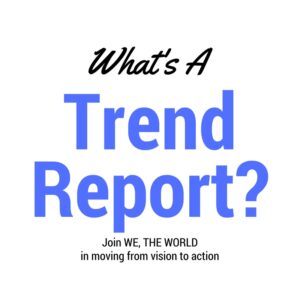 We are assembling periodic "
Trend Reports
" for each of the 
11 Theme areas
:
1 Unity
2 Interdependence
3 Environment
4 Economic Justice
5 Health
6 Children and Youth
7 Women
8 Human Rights
9 Freedom
10 Disarmament
11 Peace
Thank you for considering working on this with us!
Trend Report Suggested Format
Each Trend Report you submit will appear as an article with your name in our new eZine We, The World – Trends in Global Grassroots Organizing. They may also be used in Newsletters, Webpages, Email Blasts, Facebook and other social media. The Editors will decide whether to include, edit, or not include your submission(s).
Trend Reports feature organizations (large and small, international and local) as well as their leaders and the actions they take to address humanity's challenges within one of the 11 Themes For Change (see http://WE.net/11themes).
Elements of Your Trend Report:
The Theme your Trend Report is focused on (Unity, Interdependence, Environment, Economic Justice, Health, Children and Youth, Women, Human Rights, Freedom, Disarmament, or Peace)

A Title that reflects the focus of your Trend Report
Your Name and Organization Affiliation

The Challenge
Optional: An Image (Public Domain) that symbolizes your chosen Theme
A brief quote from a leader in this area of concern
Optional: A Commentary from you about this subject
Change Agents Addressing The Challenge
Logo of Featured Organization, their Name and Link
The Organization's Mission and/or an Overview (1-2 paragraphs) describing the challenge humanity faces (under this Theme) quoted from the website of the Featured Organization
An inspiring or informative quote from a Leader of the Featured Organization
Optional: Add another Organization (their Logo, Mission and Quote) to be featured in your Trend Report
Upcoming Actions or Events
List any titles, dates and links of significant actions, rallies, campaigns or other events coming up under this Theme – by the Featured Organization(s) or by other leaders in this field.
(Optional) After submitting your Trend Report
If possible, please post the upcoming actions, rallies, campaigns or other events that you listed on our Calendar at http://GlobalUnityCalendar.org
Work with Angel, Robert and/or Rick to contact the groups you featured in your Trend Report.to let them know we are promoting their important work to our extensive global network, and propose collaboration with We, The World offering them free promotional and other resources.
Thank you so much!
Rick, Angel and Robert